Welcome to the pro football family.
August 2016. Canton, Ohio.
As I watched my father posthumously inducted into the Pro Football Hall of Fame, I thought of one of his favorite sayings: "Life's a marathon, not a sprint."
In that moment, I decided to devote myself to protecting athletes and their families. To provide them with the advocacy, support, and guidance he lacked. A year later, I was certified as an agent by the NFLPA.
Not every NFL journey ends in Canton. But every NFL player has an incredible opportunity to create an enduring legacy – it's my goal to help get you there.
My role as a player agent is the marriage of my professional life as an attorney and my personal life as the daughter of a pro athlete.
Today, STABLER SPORTS is a full-service agency singularly devoted to helping athletes achieve their goals.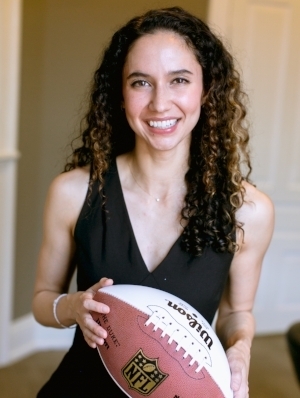 AT A GLANCE
NFLPA Certified Agent
Licensed Attorney (Juris Doctor, The University of Alabama School of Law)
Daughter of Super Bowl Champion and Hall of Fame Quarterback Ken Stabler
I have lived football since the day I was born.
I have witnessed the risks, rewards, challenges, and opportunities that come with playing the game at its highest level. I understand how football affects players and their families when it's over.
My goal is for STABLER SPORTS clients to excel as members of the National Football League as I advocate tirelessly for their interests and plan for life after football.
Football requires much of its athletes, and you deserve much in return.